The winner of my "Canteen Wall Vase, Magic Happens" giveaway is: Toni Fenton, who said:
"I wasn't even shopping, and happened to glance up and saw a vintage glass measuring cup with a beater contraption inside. The beater has a wood-type knob "holder," and beneath the wood knob handle to turn the beaters inside the bowl is a metal cover that sits atop the glass measuring cup. The glass is an 8-cup measure. I had to buy this. When my grandchildren visit every other weekend, Saturday is our "egg" breakfast day, and my 4-year-old granddaughter goes after the glass measuring cup with beaters and she beats the eggs for our scrambles. On Sunday, my 7-year-old grandson uses it to help make the batter for our waffles. This beautiful piece, which I'm sure was not given away, but saved, has found its way into my home, and is creating cherished memories for our next generation."
———
And the original post for the GIVEAWAY was (thank you to the 24 women who shared their favorite vintage finds!):
In the Dec/Jan issue of MaryJanesFarm, "Magic Happens" (on newsstands Nov. 10), I led you here to my daily journal for a chance to win my canteen wall vase shown on p. 59.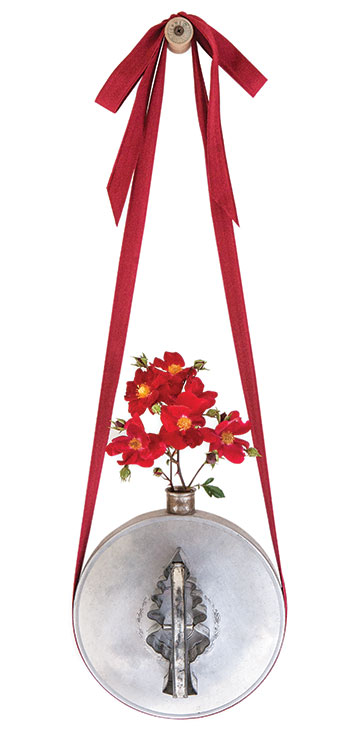 In my article, "Holiday Décor from Vintage Finds," I gave you ideas for creating unique décor using secondhand-store bargains. For a chance to win my canteen wall vase, tell me about your favorite vintage find in the comments below by Dec. 1. I'll toss your name into a hat and draw a lucky winner the second week of December. Stay tuned for more magazine-related giveaways!
If you're not yet a subscriber to my magazine, MaryJanesFarm, subscribe here for $19.95/year.