WINNER SELECTED, 2/15/16
And our winner is … Nikki Hurlbut (see winner's post here).
Original post:
For a chance to win a free copy of my Milk Cow Kitchen book, tell me the name of your milk cow (even if it's still only a fantasy) in the comments below. I'll toss your name into a hat and draw a lucky winner sometime mid-February.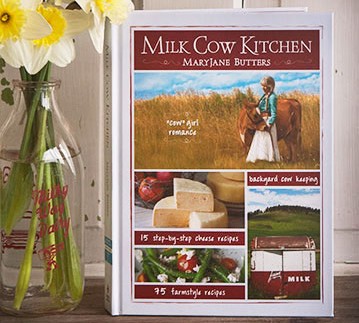 My book gives you how-to details for keeping a pet milk cow on your suburban half acre, a backyard lot in town … or at least, it'll help fuel your fantasy of a someday cow grazing outside your kitchen window. Milk cow fantasy aside, my book is chock full of recipes using dairy—75 to be exact—along with 15 step-by-step cheese-making recipes.
Stay tuned for more magazine-related giveaways. If you're not yet a subscriber to my magazine, MaryJanesFarm, subscribe here for $19.95/year.