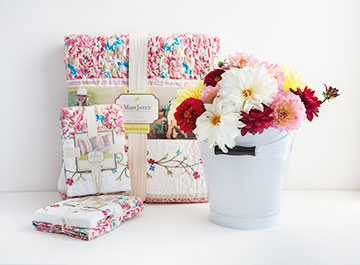 The winner of our Bright Blooms Quilt giveaway is Melly Wilson, who said:
My favorite summer, so far, was last summer, 2015. The hardest summer of my life, but the best! Hubby and I found our homestead, a 5-acre place with an old barn, a lean-to, and a shell of a small home built 50 years ago and never finished. We spent the entire summer working on getting the outside winterized … I should say hubby worked, as I was pregnant and always had my two toddler girls in tow. We struggled with how to finish the inside financially, but things came together after a month of prayer. I was so excited to get our homesteading life started, I picked up chickens from craigslist the first week we owned the place and put them in the old barn, letting them free-range during the day. Lo and behold, we had farm drama within that first month! A bobcat came through and continually wiped out my dwindling flock. Hubby finally caught sight of it during the middle of the day, jumping six feet in the air. No wonder they weren't safe perched on top of 6-foot stalls! No matter what traps we set, we couldn't catch the wild thing. I had to give my survivors away to friends. Only thing that kept our chickens safe the following spring was getting a set of pups. So the summer of 2015 was spent supporting my hard-working husband with food and our girly presence, drinking our well water, enjoying the weather at the base of the San Francisco peaks, having friends show up to help, and always having meals prepared at the "base camp" we called the back of our Jeep with a shelf table.
We picnicked outside all summer, spent a few nights under the stars as daddy worked away, and eventually brought the tent into the house for the girls to play in while I painted our finished walls and hubby worked tirelessly away at getting the inside of the house finished. We actually got our place finished in the nick of time, days before Christmas, and my 3rd baby girl showed up on January 14th. We got to christen our ranch home with a home birth, just as we had wanted to do when we daydreamed a year before about doing it at a new homestead, since our first two home-birth memories were now in a home we had sold. What a year 2015 was …what a summer! Hard, hard, hard, but full of precious memories!
Congratulations, Melly! Watch for an email from the farm. Thank you everyone for your lovely comments/memories. I thoroughly enjoyed reading them.