Thank you for dropping by my Raising Jane Journal to participate in my giveaways! We've chosen a winner for this giveaway already (click here for details), but don't be afraid to leave a comment anyway. I love reading them. And stay tuned for more great MaryJanesFarm giveaways.
In the "All That Glitters," Dec/Jan issue of MaryJanesFarm, we featured these beautiful mittens from Mountain Mitteneer in our "Upcycled Patchwork Coats" article on p. 64.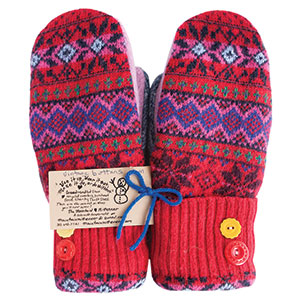 Coordinate your upcycled coat with gloves like the ones shown here, re-fashioned from sweaters purchased from charity thrift shops by The Mountain Mitteneer (Mountain Mitteneer.com). For a chance to win a FREE pair of mittens (we have 3 adult pairs—the ones shown here, a blue/pink blend, and a red/navy/green pair—and 1 pastel blue/gray/brown/green children's pair), share with us the color of your favorite coat in the comments below. (Last week I bought a bright hunter orange coat on sale at Old Navy–it's my new fav!) I'll toss your name into a hat and draw a lucky winner soon.