In the Dec/Jan issue of MaryJanesFarm, "I'll Be Home," I led you here to my daily journal for a chance to win a FREE one-month, premium Seamwork membership (Seamwork.com). Seamwork is all about designing and creating your own wardrobe, piece by piece, with approachable patterns that match both your style and your schedule.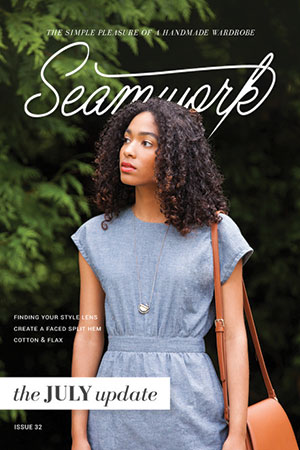 The winner of my "Seamwork, I'll Be Home" giveaway is …
Carol, who left this comment in response to "Tell me about one of your favorite sewing projects."
"I was the girl in high school who made many of my own clothes. Now I'm a quilter and a thrifty clothes shopper. BUT, I think I should revert to my earlier self. At my age (59, no really, I am 59), I am finding it harder and harder to find clothes that are ME. I would love to give this a try. My favorite project was all the clothes I made for my trousseau in 1980."
Congratulations, Carol! Watch for an e-mail from the farm. Thank you, everyone, for your lovely comments. I thoroughly enjoyed reading them.
Stay tuned for more magazine-related giveaways. If you're not yet a subscriber to my magazine, MaryJanesFarm, subscribe here for $19.95/year.