Thank you for dropping by my Raising Jane Journal to participate in my giveaways! We've chosen a winner for this giveaway already (see below), but don't be afraid to leave a comment anyway. I love reading them. And stay tuned for more great MaryJanesFarm giveaways.
In the Apr/May 2019 issue of MaryJanesFarm, "Possibilities" (on newsstands March 5), I led you here to my journal for a chance to win a FREE copy of Circle Gardening: Growing Vegetables Outside the Box by Kenneth E. Spaeth Jr., a soil and ecosystem specialist who provides a fresh approach and thorough guide to growing vegetables for all gardeners, experienced and beginner alike.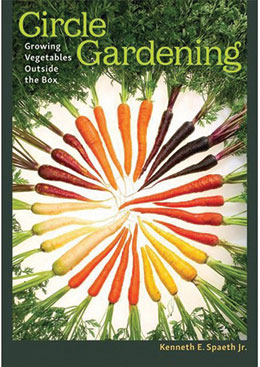 For a chance to win, share with me your favorite variety of carrot that you grow in the comments below. I'll toss your name into a hat and draw a lucky winner sometime mid-May.
Stay tuned for more magazine-related giveaways. If you're not yet a subscriber to my magazine, MaryJanesFarm, subscribe here for $19.95/year.
——
The winner of our "Circle Gardening" giveaway is …
Lily Herndon Weaks, who commented:
"For our South Carolina garden I love Chantenay Red Core Carrots, a short, blunt, beautifully deep colored carrot that works in all sorts of soils, even our dreaded clay! It is an heirloom introduced from France in the late 1800's. We get our seed from Southern Exposure Seed Exchange, an amazing organization that works to save heirloom seeds, providing the varieties that work best for our region and sources them from small growers all over the south."
Congratulations, Lily! Watch for an email from the farm.