"Spoon" painting in the bottom right: MaryJanesFarm magazine ("Shelter from the Storm" Feb/March 2011). This fabulous art piece is titled, "A Very Good Morning" by Jill Enestvedt. You may find more of her work at www.studioelements.net.  $25.00 + shipping (purchased new for $125.00). A sweet bargain indeed, not to mention a collector's item. Do not pass up this opporunity to add to your art collection this rare gem that will only grow in value. To purchase …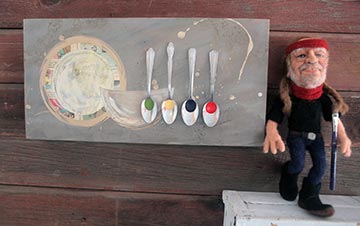 All proceeds (minus shipping and packing) will benefit www.firstbook.org, a non-profit that provides new books to children from low-income families throughout the U.S. and Canada.
The first person to call the farm and talk with Brian, 208-882-6819, and pony up a credit card, becomes the new owner of a little bit of herstory. Shipping will be either USPS or UPS, our choice. No returns.