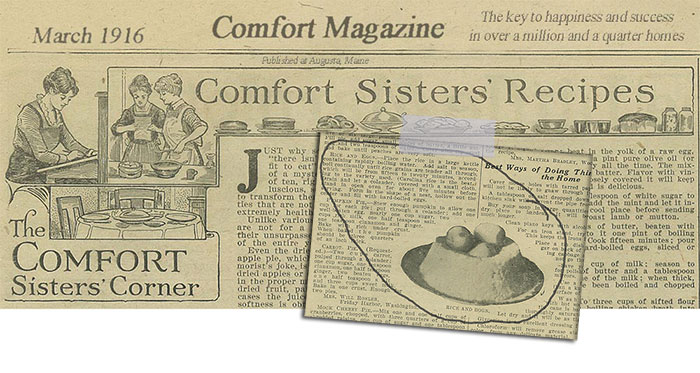 We're having such fun trying these old-fashioned recipes. This one, Rice and Eggs, is simple and straightforward. I'd never thought to combine hard-boiled eggs with rice before, topped with hollandaise sauce. Next time, I'll put it on a bed of spinach. Or I'll sprinkle chopped celery onto the mound of rice before I top it with the sauce. Yum.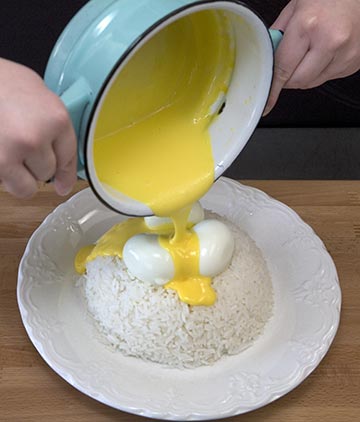 EGGS & RICE WITH HOLLANDAISE SAUCE
PREP TIME: 10 MINUTES
COOK TIME: 30 MINUTES
MAKES: 4 SERVINGS
3     cups water
1½  cups jasmine rice
4     hard-boiled eggs, peeled and left whole
1. In a medium pan over high heat, bring water to a boil.
2. Add rice, remove from heat, cover, and let sit for 20 minutes, or until rice is fully cooked.
3. Spoon hot rice into a mold or a medium bowl. Gently press the rice so that it forms to the shape of the mold or bowl.
4. Flip molded rice onto a plate and hollow out the center to create a nest. Place whole hard-boiled eggs in the center of the nest.
5. Top with Hollandaise Sauce (below).
HOLLANDAISE SAUCE
PREP TIME: 5 MINUTES
COOK TIME: 10 MINUTES
MAKES: 2/3 CUP
3    egg yolks, slightly beaten
1    T lemon juice
½   cup butter, melted
warm water
1. Put about 2" of water in the bottom portion of a double boiler.
2. In the top portion of the double boiler, whisk together egg yolks and lemon juice until the mixture lightens slightly.
3. Place over medium heat, slowly pour in butter, and whisk until well combined.
4. Cook until mixture thickens, stirring constantly. If the sauce thickens too much, add a little warm water until desired consistency is reached.
HOLLANDAISE SAUCE
Gather ingredients.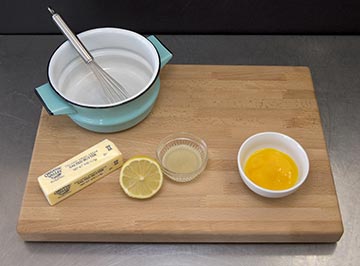 Add 3 slightly beaten egg yolks to the top of a double boiler.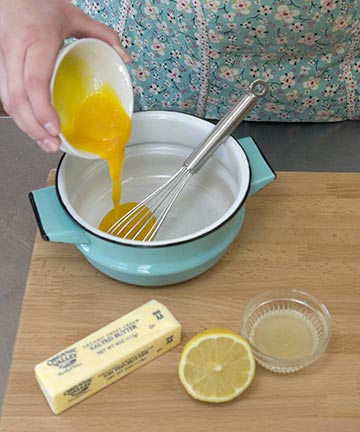 Whisk in 1 T lemon juice until mixture lightens slightly.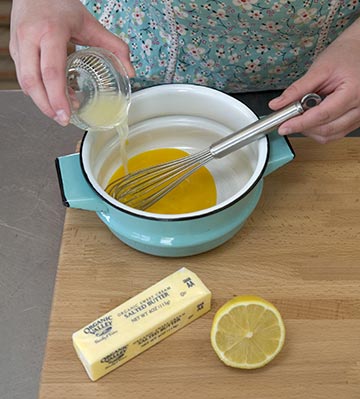 Melt butter.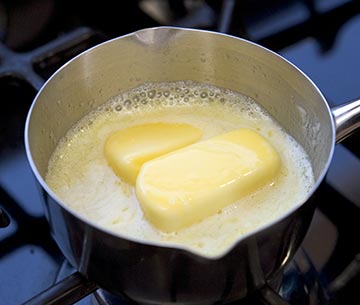 Over medium-low heat, slowly begin to pour the butter into the egg yolk and lemon juice mixture.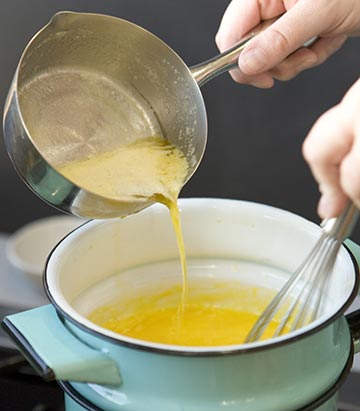 Continue to whisk until the mixture begins to thicken.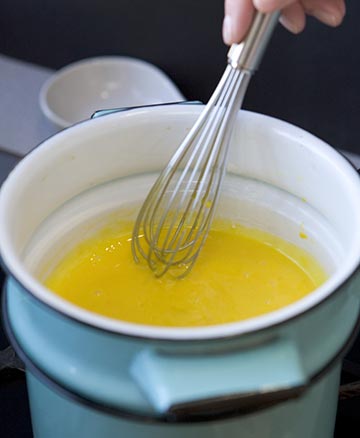 Once the sauce is ready, place the hard-boiled eggs into the center of the molded rice.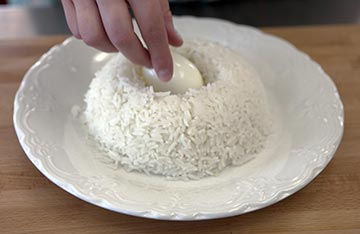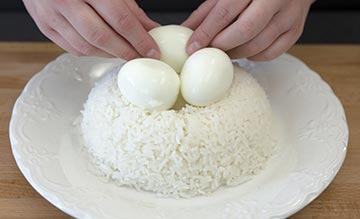 Pour the hollandaise sauce over eggs and rice.