Thanks to all those who entered the Glamping Aprons Giveaway for a chance to win one of CJ's amazing aprons!
Karina reaches into the pockets of each of the prize aprons to pick out our winners …
The first is … Julie Kram!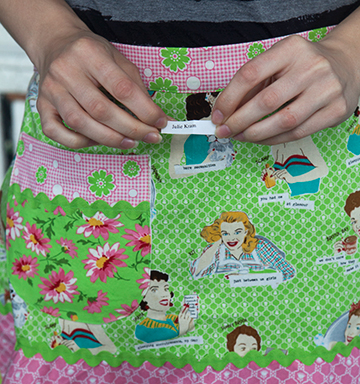 Julie Kram said:
My dream glamper would have an awning made out of your fabulous glamping fabric under which I could cook while wearing one of the awesome aprons. The outside of the camper would be painted white with a red stripe around the middle. It would be a vintage bread-box style. The inside of the glamper would be clean-up friendly, as I love to camp in the woods away from it all. I would have farm prints on the cushions and curtains and favorite handmade doo-dads on the walls. I'm dreaming!
And the second is …