Thank you for dropping by my Raising Jane Journal to participate in my giveaways! We've chosen a winner for this giveaway already (click here for details), but don't be afraid to leave a comment anyway. I love reading them. And stay tuned for more great MaryJanesFarm giveaways.
Liquid Sunshine was one of our featured products in the "Home Safe Home" section of the Aug/Sept issue of MaryJanesFarm. Liquid Sunshine Non-toxic Cleaner by Vermont Soap Organics is a USDA-certified food-grade organic alternative to conventional chemical cleaners—a single-source solution to washing laundry, dishes, kitchen appliances, bathrooms, carpets, stains, woodwork, floors, camping gear, and any other water-safe surface. Plus, it's safe and effective to use on the hands and body, and is even touted as a terrific shampoo for people with oily hair.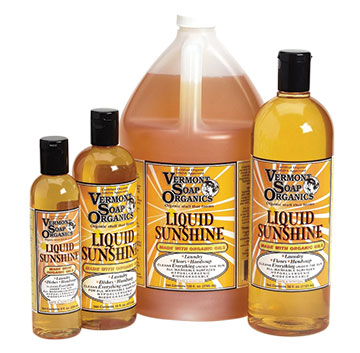 For a chance to win a FREE 16-oz bottle of Liquid Sunshine, tell me your favorite cleaning tip in the comments below. I'll toss your name into a hat and draw a lucky winner sometime mid-August.
Stay tuned for more magazine-related giveaways. If you're not yet a subscriber to my magazine, MaryJanesFarm, subscribe here for $19.95/year.