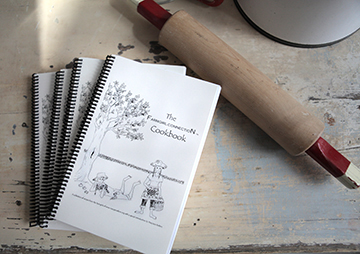 I have four extra copies of The Farmgirl Connection™ Cookbook that need four pairs of floury hands to break them in. (I'm not parting with my copy.) Have you heard of …
… our Farmgirl Connection Chatroom™? The title derives its name from an idea I had a few years back—to provide an online chatroom for farmgals from all over the world, whether you have a houseplant on your patio or 80 head of cattle, to share hardships and wins, get advice, and support one another.
Have you noticed that you can oftentimes tell the worth of a book by how "well loved" it looks? For me, those books that are water-logged, boasting ripped (and taped back together) pages and a seriously curling cover are the first I gravitate to. Be prepared to show this cookbook that same kind of love because the recipes were put together by the lovely women of the chatroom who are so dear to my heart—and pretty durn good when it comes to kitchen duty!
To win, all you have to do is share what your favorite recipe is—and why (feel free to post the recipe)—and my grandgirl StellaJane will pick four winning names from a hat.
Click here to see our winners!