Thanks to all those who shared their favorite recipes (all 54 of you!) for a chance to win a copy of The Farmgirl Connection™ Cookbook. It was "take your daughter to work day" last week, so …
… granddaughter Mia Marie (and her baby doll) got to help daddy Lucas (my SIL) with an assortment of tasks at the farm—putting checks into envelopes, organizing desktop clutter, and of course, picking our winners. They even stopped off for a little Java Bug mini cocoa and daddy-sized coffee to start their day. Mia was feeling a little camera shy, so her best friend volunteered to pose with the chosen names.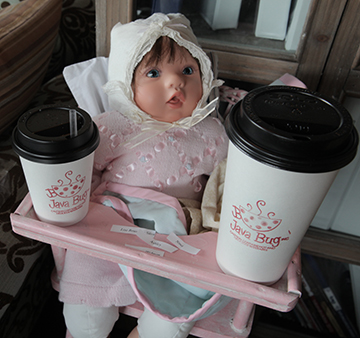 We have our four winners. They are:
Lise Rousseau Silva said:
My favorite recipe was for my great-aunt's sugar cookies, thin and crisp but chewy too, lemony with a slight crunch of sugar on top. The perfect complement to a cup of stove-top brewed coffee. Unfortunately, she made them so often she kept the recipe in her head. So when she passed, the sugar-cookie recipe passed with her. I have never been able to duplicate them, and believe me, I've tried!
Eileen Widman said:
I have so many favorite foods. The main thing is that they must be homemade from scratch using organic ingredients and farm-fresh raw dairy products. No GMO grains and as local as I can find or grow myself.
The freshest greens from my garden made into a quick stir-fry. Winter soups made from my frozen or home-canned veggies and locally grown, organic, grass-fed, no-grain-fed beef. Homegrown eggs and chickens. Summer cold soups made from freshly juiced ingredients (raw borscht is one). Apple pie for me cherry pie for my husband. How on earth do I pick just one?! In winter, a fresh, hot, homemade soup. In spring, a fresh green salad or stir-fry. In summer, a fresh fruit and cottage-cheese salad. In fall, hot squash soup with crusty homemade bread to sop it up.
Ashley said:
My favorite recipe is probably my coconut macaroons.
Preheat the oven to 325 degrees F. Cover cookie sheets with parchment paper or well-greased aluminum foil.
Stir together until well combined:
2/3 cup sweetened condensed milk
1 large egg white
1 1/2 teaspoons vanilla
1/8 teaspoon salt
Stir until well blended:
3 1/2 cups flaked or shredded sweetened coconut
Drop the dough by scant measuring tablespoonfuls onto the sheets, spacing about 2 inches apart. Bake, 1 sheet at a time, until the cookies are nicely browned, 20 to 25 minutes. Remove the sheet to a rack and let stand until the cookies are completely cool. Carefully peel the cookies from the paper or foil.
Nina said:
If pressed, I'd say my favorite recipe is for breakfast strata. My husband and I have made it a Christmas morning tradition every year we can't get home to have a big, calorie-laden Christmas breakfast with my family. I love the fact that there are infinite variations and possibilities—good local eggs and good local bread are must-haves, though.
Congratulations ladies! The e-mail you provided when you commented will be the one we use to get in touch with you. Keep your eyes on the mail.