The Happiness Project … Or, Why I Spent a Year Trying to Sing in the Morning, Clean My Closets, Fight Right, Read Aristotle, and Generally Have More Fun by Gretchen Rubin, chronicles her pursuit of a more meaningful day-to-day existence.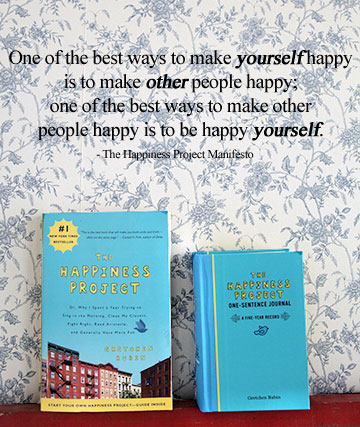 "The Happiness Project is the memoir of the year I spent test-driving the wisdom of the ages, current scientific studies, and lessons from popular culture about how to be happier – happily, it was a #1 New York Times bestseller. As one of the hundreds of experiments I've conducted, I started a blog. Here, I recount my daily adventures in pursuit of happiness." –Gretchen Rubin
Above is a copy of the book and to the right is a 5-year, one-sentence-a-day journal, that simplifies journal keeping. It only requires that you write down one sentence a night to chronicle your day. Brilliant! To win this book set, all you have to do is tell me what makes YOU the most happy. Is it the bursting flavor of a sweet orange, a blue sky that stretches for miles, or maybe just a good night's sleep?
Tell me what makes YOU the most happy and I'll put your name into a hat for StellaJane to dip her hand into. She'll choose one new home for both the book and the accompanying journal. Going forward, StellaJane and I will do our GIVEAWAYS hat trick always in time for an announcement Sunday morning. Without fail. Coming this Sunday, the winner of the Wild Iris Art. We thought it would make a good Easter present.
See our winner here!