Thanks to all who shared what makes them the most happy for a chance to win The Happiness Project book set. And the winner is …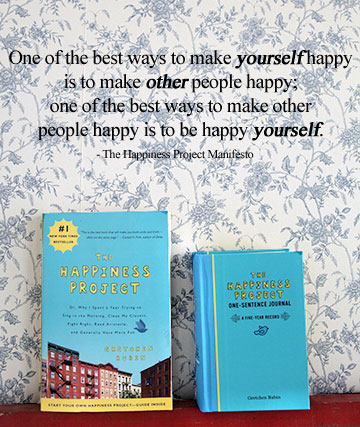 … Winnie Nielsen!!!
Winnie Nielsen said:
I have been working as an RN for the past 33 years and raised a family of two girls. My husband recently retired and I hope to do the same in another year or so. As I have been thinking about filling my time in the future, I must admit, it is hard to figure out. Last May, I joined the MJF Connection which opened up a whole new world of women doing so many creative endeavors. But, one day I happened upon a Connection entry of a new young entrepreneur and began to sponsor her work where she lives in north Idaho. What a blessing this has been to me because I realized that I had some skills that I could share with her that might make her more successful. Over the past few months, I have been researching home businesses and sharing what I have gathered mixed in with what I already know from working in the corporate world. So now I am thinking maybe there is a way I can do more of this help to young entrepreneurs trying to get their businesses off the ground. I am also aware that this might give me the focus for what my retirement days can look like. This is very exciting to me and making me very, very happy!! For me, I am most happy when I feel like my time and work has meaning.
This book and journal is a wonderful gift idea!! I am learning so much myself about what it means to be older and what a challenge it will be to continue to grow past my years in the workforce in positive and meaningful ways. I thank MJF for leading me down a path to better living and connecting with so many talented and inspiring women!! Thank you MaryJane!
Winnie. aka RedTractorGirl on The Farmgirl Connection
Congratulations Winnie! I will send you an e-mail shortly requesting your address. Please be sure to check your spam folder if you don't hear from me.