Much to my vicarious delight, vacation and work commitments recently took Alyson Oüten to Europe for a month; from Spain to Portugal to Italy and Israel. (If you read my magazine or CLUCK newsletter, you're already familiar with Alyson.)
For some of my Geography Journal entries she'll take you to each of those stops (and more!). Today she is off to Portugal to sample the delicious cuisine of Peniche.
Take it from here. It's all yours, Aly!!!!!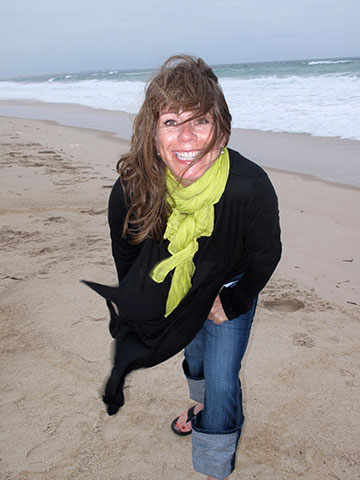 About an hour north of Portugal's capitol city of Lisbon, lies the ancient town of Peniche—considered the Western most point of the European continent and Portugal's largest fishing port.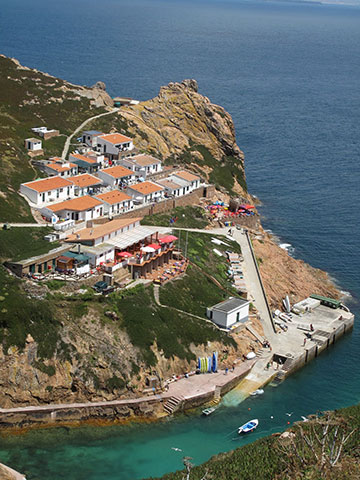 Peniche is a crumbly, well-worn village where fishing is, and always has been, a way of life. For generations, the people of Peniche have lived off the sea and, even today, evidence of that lifestyle is everywhere—from scenic, fish-flanked restaurants, to side streets lined with the catch of the day.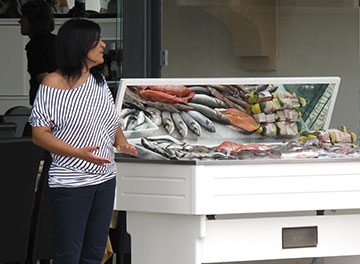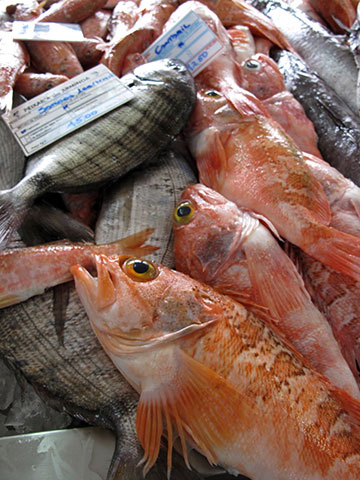 On one residential street, outside an old stucco villa, a clothesline caught my eye. Hanging from clothespins were flattened, freak-show looking fish. As I was inspecting this scene, one of the residents from the home appeared.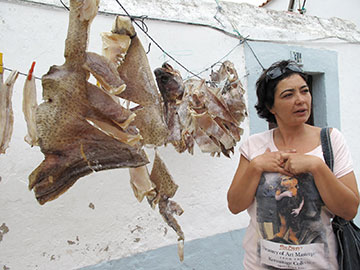 In nearly perfect English, she described with pride her family's long heritage in the fishing industry. She invited me into the entry courtyard of the home where more fish dried and more family members scurried about.
It was explained to me that the day the fish is caught, it's cleaned and put in containers of very coarse salt.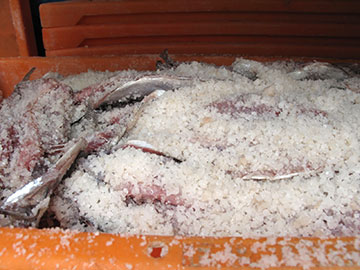 After several days of curing in salt, the fish are laid (or hung) out to dry for several more days.
Once the process is complete, the salty, dried fish (which I sampled) will last for years (according to my unwitting expert, plucked from obscurity).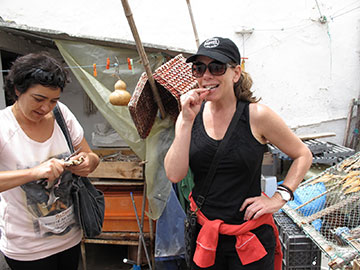 To prepare these dried carcasses, the fish are rinsed and soaked to remove the salt and consequently rehydrated. From there, the fish can be put into any number of dishes served in this region.
While this tried and true tradition works well for preserving the fish, I still prefer mine freshly caught and cooked. For that, I turned to a regional favorite—a seafood-filled dish called caldierada, which I very much enjoyed during my visit and then replicated upon my return home to the states.
Portuguese Fish Stew
MAKES: 6 SERVINGS
3 T olive oil
2 medium yellow onions, finely sliced into rings
5  cloves garlic, minced
2  lbs russet potatoes, finely sliced
1  medium green bell pepper, cored, seeded, roughly diced
1   16-oz. can whole tomatoes, undrained, crushed by hand
1⁄2  t crushed red pepper flakes
2  bay leaves, broken in half
2  cups dry white wine
Salt and freshly ground black pepper, to taste
2  lbs various shellfish and fish (halibut, salmon, cod, swordfish) cut into 1 1⁄2″ chunks
1/2  cup cilantro, minced
Slice up the potato, onion and mince the garlic.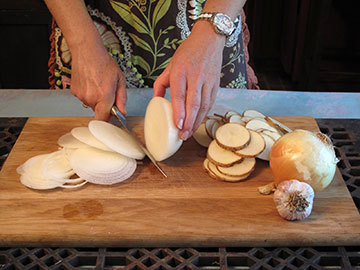 Slice up the green pepper.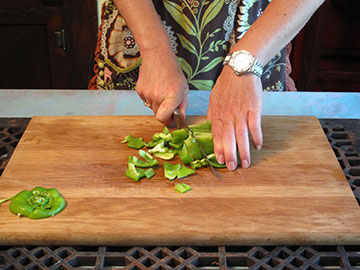 In a large, oven-proof pot, sauté onion and garlic for 5-7 minutes in olive oil.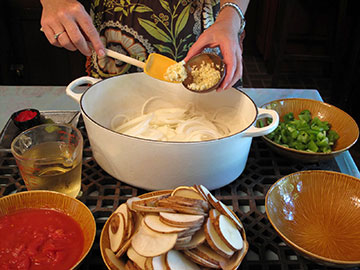 While onions and garlic are sautéing, open one can of whole undrained tomatoes and crush by hand.
Add potatoes.
Add green peppers.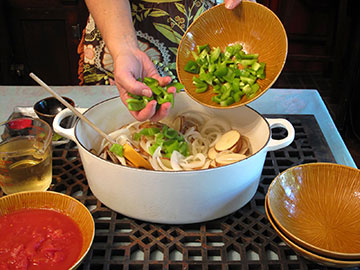 Then the tomatoes, pepper flakes and bay leaf …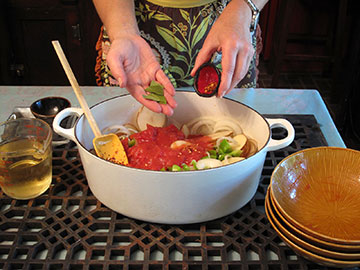 … and wine.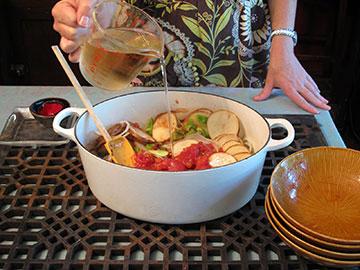 Cover and simmer one hour, stirring occasionally. Add shellfish (if using) and cover pot; cook until shells just begin to open, about 4–5 minutes.
Add fish and continue to cook, covered, until all shellfish are opened and fish are cooked through, about 5–6 minutes more.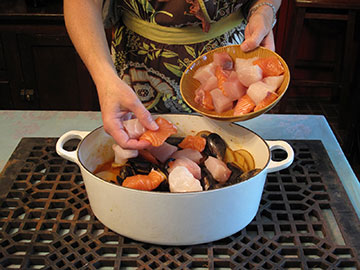 Cut up some cilantro.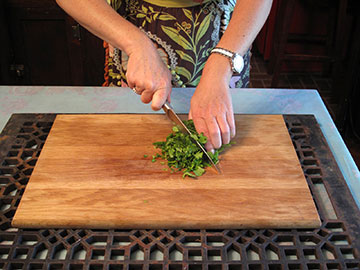 Transfer fish stew to a large serving bowl and sprinkle with cilantro. Serve with grilled bread.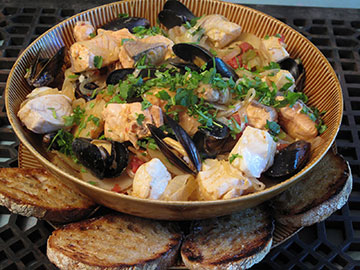 On the weekends, regional visitors flock to Peniche to picnic along the seawall. Plates are piled high with chicken, rice, vegetables, and bread. And wine flows freely.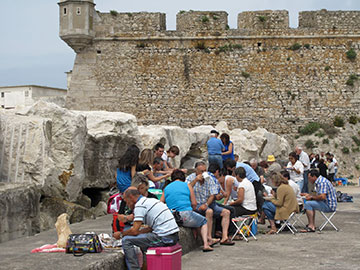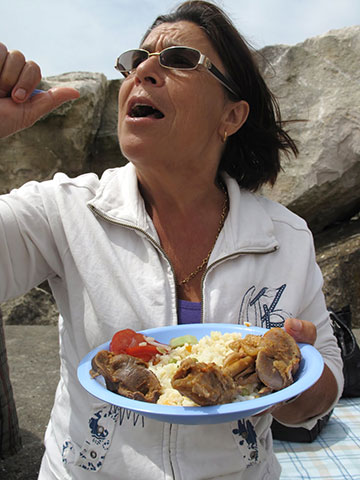 Sardines are a staple of Portuguese cuisine. Like most of their coastal cuisine, sardines are very simply prepared—salted, grilled and served whole—allowing the freshness to speak for itself.
Just off the coast of Peniche is the island of Berlenga—a beacon for hikers, campers, and tourists alike. From its impossibly blue waters to its seagull sanctuary to its impressive seaside fort, Berlenga is worth a day trip.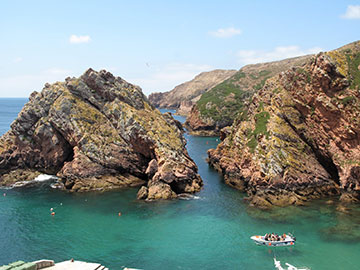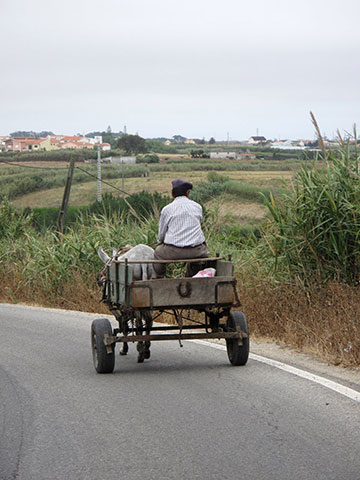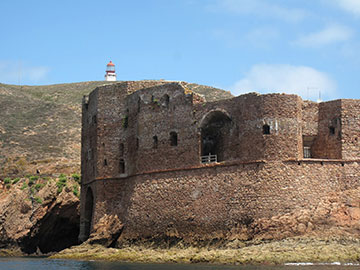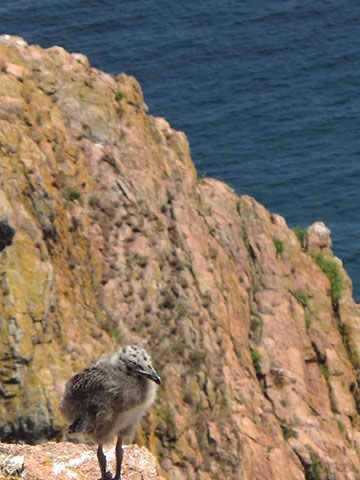 Obidos is a medieval walled town. The monarchy was overthrow in 1910.