Thanks to all those who entered the Glamping Aprons Giveaway for a chance to win one of CJ's amazing aprons!
Karina reaches into the pockets of each of the prize aprons to pick out our winners …
The first is … Julie Kram!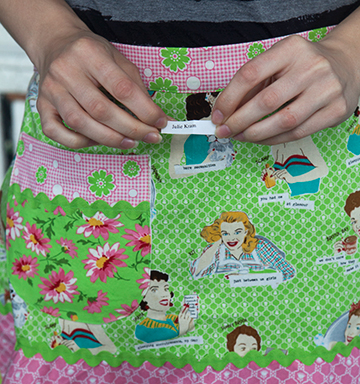 Julie Kram said:
My dream glamper would have an awning made out of your fabulous glamping fabric under which I could cook while wearing one of the awesome aprons. The outside of the camper would be painted white with a red stripe around the middle. It would be a vintage bread-box style. The inside of the glamper would be clean-up friendly, as I love to camp in the woods away from it all. I would have farm prints on the cushions and curtains and favorite handmade doo-dads on the walls. I'm dreaming!
And the second is …
Karlyne!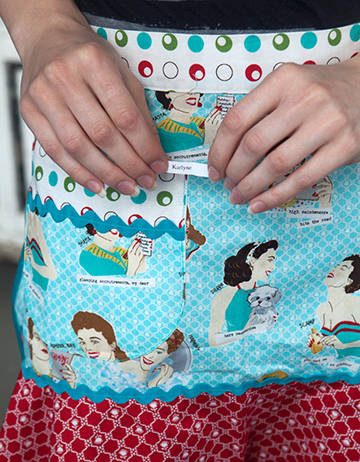 Karlyne said:
Tent glamping! Where have I been that I hadn't seen or thought of this? I may have to go dig out that ol' tent that's been languishing in the garage for a couple of years and see what I can do to glam it up for me and the kidlets!
While rooting around in the pockets for our winners, Karina also found CJ's Farm Fresh Aprons card, and an adorable little write-up on the "History of Aprons."
Karlyne and Julie: Be sure to keep your eyes on your inbox for an e-mail coming in soon from the farm.