The FOUR winners of my "Mountain Rose Herbs, Hanky Panky" Injur-Heal Balm giveaway are:
Mary Jane Grellner, who said:
"I have supported organics for a very long time. We used to grow all our own vegetables and give some to food banks when possible. I canned about 200 jars a year and loved doing this, but then we moved to a really small house when we retired with a little backyard. Now we feed a host of hummingbirds and have put up 10 bird houses and a bird bath for our feathered friends to enjoy. I just found your magazine and LOVED it immediately; will be a new subscriber today!"
Sharon Wegmeyer, who said:
"I serve on the board of our local Farmers' Market. If possible, I always purchase either local or organic and buy as little as possible from big box stores. We grow some of our own organic produce in our backyard garden and are hoping to purchase some acreage soon!!!"
Jillian, who said:
"I love Mountain Rose Herbs. I recently ordered a ridiculous amount of essential oils. I had been given some by a rep for an MLM, but balked at the price for tiny bottles. I have been a customer for years with Mountain Rose, so I went back to them when needing oils. I'm glad I did. I love their tea, as well. I drank a pregnancy blend the entire pregnancy with my youngest. I wish I had known about it with my oldest of the two."
Pearl Maxner, who said:
"I support organic agriculture by growing organic; raising organically fed chickens, ducks, and goats; and buying from local organic farmers. We make sure when we do have to buy from afar, we buy trade-free organics. The earth is so bountiful! We spread the word as far as we can to educate others as well."
And the original post for the GIVEAWAY was (thank you to the 61 farmgirls who told us why they support organic agriculture!):
In the Oct/Nov issue of MaryJanesFarm, "Hanky Panky" (on newsstands Sept. 15), I led you here to my daily journal for a chance to win my favorite botanical salve from Mountain Rose Herbs, an "herbs, health, and harmony company" from Eugene, Oregon.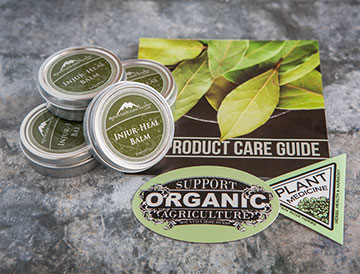 Enter to win one of four 2-oz tins of Mountain Rose Herbs' Injur-Heal Balm—with organic calendula flowers, fresh wild-harvested St. John's Wort flowers, organic arnica flowers, organic lavender, and more—by telling me how you support organic agriculture in the comments below. I'll toss your name into a hat and draw four lucky winners in mid-November, when the Oct/Nov issue expires on newsstands. Stay tuned for more magazine-related giveaways!
If you're not yet a subscriber to my magazine, MaryJanesFarm, subscribe here for $19.95/year.