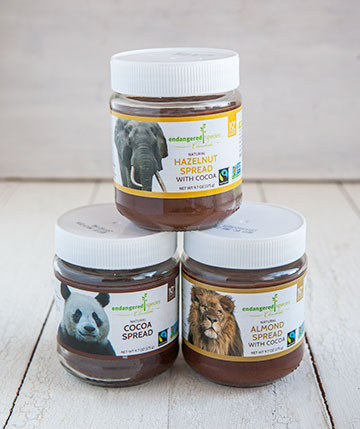 The FIVE winners of my "Endangered Species Chocolate Spread" giveaway are:
Sara Kitchen, who said:
"WOW! Perfect treats for anything, even on picnics!"
Nicole, who said:
"I love chocolate because, well, it's chocolate! Dark is my favorite, but I'm open to any. We even have a basket in my office that I keep filled with chocolate, and a sign that says, 'Life happens, chocolate helps.'"
Ally, who said:
"I love chocolate because it's a good de-stresser for me, and I love our planet because it's pretty darn amazing. The things it does for us!"
Maryellen Benton, who said:
"I love chocolate and I love what this chocolate stands for. Chocolate can give you that little smile when you need it the most! Thanks for having a giveaway."
Rebecca, who said:
"Who doesn't love chocolate? This spread looks yummy and it's so great that Endangered Species is giving back. If we'd all do that a little more, the whole planet would be better for it."
Read the original post for the GIVEAWAY (thank you to the 29 women who shared why they love chocolate and our planet!).