Thank you for dropping by my Raising Jane Journal to participate in my giveaways! We've chosen a winner for this giveaway already (click here for details), but don't be afraid to leave a comment anyway. I love reading them. And stay tuned for more great MaryJanesFarm giveaways.
In the "Comin' Up Roses," Feb/Mar issue of MaryJanesFarm, you'll find such "Timeless Reading" farmgirl favorites as Pride and Prejudice. And for your little ones, publisher Gibbs Smith developed their BabyLit board-book series to introduce young children to the world of classic literature. In Pride & Prejudice: A BabyLit® Counting Primer, you and your child will stroll through 1 English village to meet 2 rich gentlemen and discover what happens when the 5 Bennet sisters encounter 4 marriage proposals! Alison Oliver's charming illustrations accompany Jennifer Adams' clever, simple text to make this take on a beloved classic perfect for little ones.
For a chance to win a FREE BabyLit® sampler, share with us the title of the book you're currently reading in the comments below. I'll toss your name into a hat and draw a lucky winner sometime mid-February.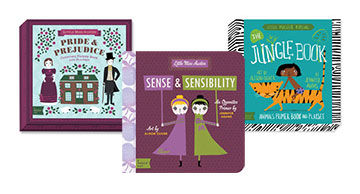 Stay tuned for more magazine-related giveaways. If you're not yet a subscriber to my magazine, MaryJanesFarm, subscribe here for $19.95/year.