Thank you for dropping by my Raising Jane Journal to participate in my giveaways! We've chosen a winner for this giveaway already (click here for details), but don't be afraid to leave a comment anyway. I love reading them. And stay tuned for more great MaryJanesFarm giveaways.
For a chance to win this pretty faux-lemon wreath, tell me in the comments below what you most look forward to when you sit down with an issue of MaryJanesFarm. I'll toss your name into a hat and draw a lucky winner sometime mid-April.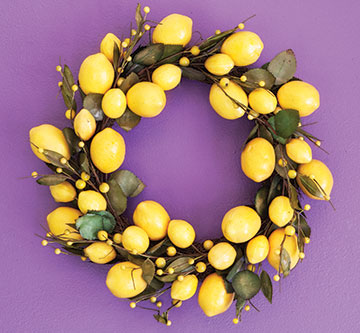 You'll find out how to grow lemon and lime trees indoors, as well as get lots of ideas for lemon-themed décor, in the Apr/May issue of MaryJanesFarm. Stay tuned for more magazine-related giveaways. If you're not yet a subscriber to my magazine, MaryJanesFarm, subscribe here for $19.95/year.