Thank you for dropping by my Raising Jane Journal to participate in my giveaways! We've chosen a winner for this giveaway already (click here for details), but don't be afraid to leave a comment anyway. I love reading them. And stay tuned for more great MaryJanesFarm giveaways.
This copy of my first book, MaryJane's Ideabook, Cookbook, Lifebook: For the Farmgirl in All of Us, was in our store window and ended up with a sun-faded cover.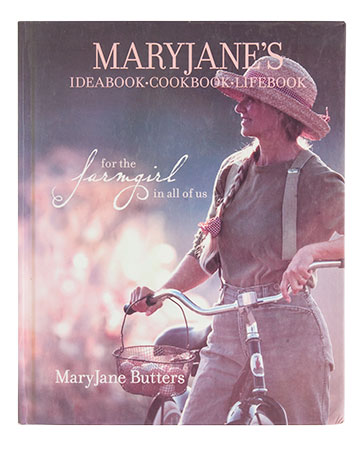 But its insides are like new, and as every farmgirl knows, it's never good to judge a book by its cover. Better to judge it from some of its online reviews, like this one from Amazon's "Never Enough Books":
"I've been a farmgirl, citygirl, tried the Mother Earth News route years ago, so it was with some skepticism that I checked out this book from my library. Don't be put off by the reference to "Martha Stewart of the West" because the only similarity I can see is that both Martha Stewart and MaryJane Butters are hard-working women. I don't think I have ever before read any non-fiction book as closely and with as much pleasure as MaryJane's Ideabook, Cookbook, Lifebook. I couldn't be satisfied with the library's copy, but had to have my own, plus ordered one for my daughter-in-law. The pictures are beautiful, from antique implements to happy people. The verbal sketches of family, friends, and helpers is uplifting.
What struck me most about Butters was her positive attitude. She advocates organic farming and living, but rather than trying to force others to conform to her way of thinking and doing, she found ways to work with local farmers. In using local products, she has connected growers with consumers and built a business for herself, family, and friends.
I'd rate this right up there with Aldo Leopold and Sand County Almanac."
To lay claim to this (sun-faded) copy, tell me what at MaryJanesFarm has inspired you … magazine, books, products, chatroom, or journal. We'll put your names in a basket and pull out a lucky winner sometime soon. Check back to see if it's headed your way.