Thank you for dropping by my Raising Jane Journal to participate in my giveaways! We've chosen a winner for this giveaway already (see below), but don't be afraid to leave a comment anyway. I love reading them. And stay tuned for more great MaryJanesFarm giveaways.
In the Feb/Mar 2019 issue of MaryJanesFarm, "Tiptoe Through the Flowers" (on newsstands Jan 1), I led you here to my journal for a chance to win a FREE copy of food journalist Jill Lightner's new cookbook and sustainability guide, Scraps, Peels, and Stems: Recipes and Tips for Rethinking Food Waste at Home. Jill's book shows how consumers can manage their kitchen for less waste through practical strategies, tips, and advice on food purchasing, prep, composting, and storage.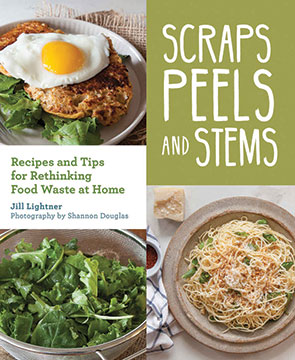 For a chance to win, tell me something you've learned from reading MaryJanesFarm in the comments below. I'll toss your name into a hat and draw a lucky winner sometime mid-February.
Stay tuned for more magazine-related giveaways. If you're not yet a subscriber to my magazine, MaryJanesFarm, subscribe here for $19.95/year.
———-
The winner of our Scraps, Peels, and Stems giveaway is …
Julia Place, who commented:
I have learned that you don't have to live on a farm to have the heart of a farmgirl! I'm in high school but consider myself an old soul and absolutely loveee your magazine! This summer I was at my grandparents farm and saw your magazines and read it. My nana saw that I loved it so much, she bought me a subscription. Thank you for your magazine!