Thank you for dropping by my Raising Jane Journal to participate in my giveaways! We've chosen a winner for this giveaway already (see below), but don't be afraid to leave a comment anyway. I love reading them. And stay tuned for more great MaryJanesFarm giveaways.
In the Feb/Mar 2019 issue of MaryJanesFarm, "Tiptoe Through the Flowers" (on newsstands Jan 1), I led you here to my journal for a chance to win a FREE copy of a new gem of an autobiography called A Honeybee Heart Has Five Openings: A Year of Keeping Bees by British author Helen Jukes (Scribner UK, July 2018). A Honeybee Heart is at once a fascinating exploration of the honeybee and the hive; the practices of honey-gathering and the history of our observation of bees; and a beautifully wrought meditation on responsibility and care, on vulnerability and trust, on forging bonds and breaking new ground.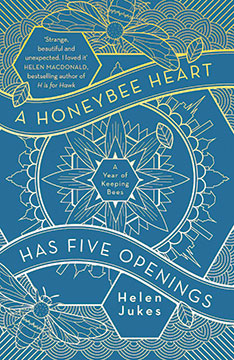 For a chance to win, tell me about one of your favorite new books in the comments below. I'll toss your name into a hat and draw a lucky winner sometime mid-February.
Stay tuned for more magazine-related giveaways. If you're not yet a subscriber to my magazine, MaryJanesFarm, subscribe here for $19.95/year.
———-
The winner of our Honeybee Heart giveaway is …
Melanie Smith, who commented:
I recently finished The Big Burn: Teddy Roosevelt and the Fire that Saved America, by Timothy Egan. This story gave me a peek at the fascinating and volatile political climate that made it nearly impossible for Roosevelt, Gifford Pinchot, and the many forest rangers to set aside and protect the first national forests.
Congratulations, Melanie! Watch for an email from the farm.