Thank you for dropping by my Raising Jane Journal to participate in my giveaways! We've chosen a winner for this giveaway already (see below), but don't be afraid to leave a comment anyway. I love reading them. And stay tuned for more great MaryJanesFarm giveaways.
In the Apr/May 2019 issue of MaryJanesFarm, "Possibilities" (on newsstands March 5), I led you here to my journal for a chance to win a FREE purple and white heirloom Sweet Lena iris rhizome grown here at MaryJanesFarm. Find out more about my Sweet Lena here.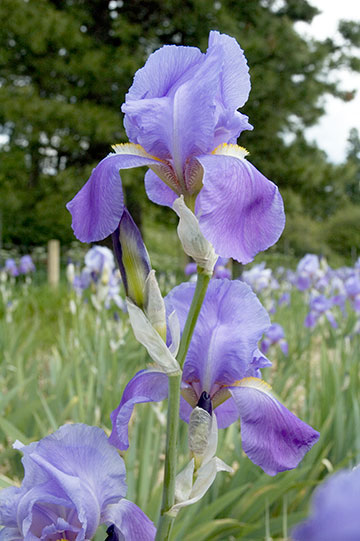 For a chance to win, tell me what your favorite Valentine's Day flower is in the comments below. I'll toss your name into a hat and draw a lucky winner sometime mid-May. (My Sweet Lena iris rhizomes are available from June to November, so we'll ship your rhizome in June.)
Stay tuned for more magazine-related giveaways. If you're not yet a subscriber to my magazine, MaryJanesFarm, subscribe here for $19.95/year.
——
The winner of our Sweet Lena Iris giveaway is:
Gerri Leigh, who commented:
"I actually prefer not to get flowers for Valentine's Day … unless they come in a pot with dirt and can be transplanted in the spring! I do have a soft spot for Iris though. They were my grandfather's favorite and he was my favorite person until I had children."
Congratulations, Gerri! Watch for an e-mail from the farm.