In the Apr/May 2019 issue of MaryJanesFarm, "Possibilities" (on newsstands March 5), I led you here to my journal for a chance to win one of three FREE adjustable ziplock bag stands to help with your life easier when it comes to freezer storage. Ashley said, "Prior to adding this handy gadget to my kitchen, filling bags with soup was a production that involved two people—one person held the bag open and kept the contents from spilling out while the other filled. This little stand makes filling bags solo a breeze."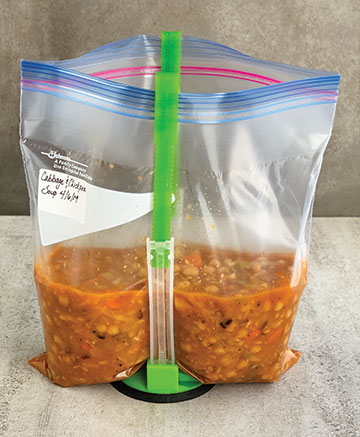 For a chance to win, tell me what your favorite homemade soup is (and share the recipe if you're inclined) in the comments below. I'll toss your name into a hat and draw a lucky winner sometime mid-May.
Stay tuned for more magazine-related giveaways. If you're not yet a subscriber to my magazine, MaryJanesFarm, subscribe here for $19.95/year.