Thank you for dropping by my Raising Jane Journal to participate in my giveaways! We've chosen a winner for this giveaway already (see below), but don't be afraid to leave a comment anyway. I love reading them. And stay tuned for more great MaryJanesFarm giveaways.
In the Apr/May 2019 issue of MaryJanesFarm, "Possibilities" (on newsstands March 5), I led you here to my journal for a chance to win one of three FREE adjustable ziplock bag stands to help with your life easier when it comes to freezer storage. Ashley said, "Prior to adding this handy gadget to my kitchen, filling bags with soup was a production that involved two people—one person held the bag open and kept the contents from spilling out while the other filled. This little stand makes filling bags solo a breeze."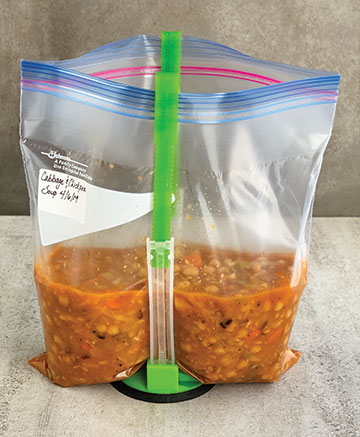 For a chance to win, tell me what your favorite homemade soup is (and share the recipe if you're inclined) in the comments below. I'll toss your name into a hat and draw a lucky winner sometime mid-May.
Stay tuned for more magazine-related giveaways. If you're not yet a subscriber to my magazine, MaryJanesFarm, subscribe here for $19.95/year.
——
The winners of our Ziplock Bag Stand giveaway are:
Denva Corff, who commented:
"I wish I made better soup because I really like about every kind … the best one I have ever made was the chicken noodle soup … a recipe from your magazine!!!"
Donna Marie, who commented:
"New England clam chowder!"
Pauline Taylor, who commented:
"My favorite soup is Turkey soup, it is made twice a year with any left overs from Thanksgiving or Christmas dinner. I boil the left over turkey carcass in a stock pot of water until the meat falls off the bones. I pour it through a colander, add the " broth" back into the stock pot, with all the meat minus the skin and bones. Then I open my fridge and add any leftovers like mashed potatoes, sweet potato casserole, stuffing, gravy, cranberry sauce, etc. and barley. Once the barley's done, it's ready to eat."
Congratulations, girls! Watch for an e-mail from the farm.