And the winner of the Project F.A.R.M. Tail Spin Farm giveaway is:
Cindy Young, who said:
"Oh, dear me! Renee's art is absolutely beautiful … and wearable … I love wearable art!"
And the original post for the GIVEAWAY was (thank you to all who participated):
Give a big farmgirl welcome to Renee McCausey, another new Project F.A.R.M. (First-class American Rural Made) business member. Renee lives with her husband and five children on a small farm in the middle of Michigan. She says chickens were her farming "gateway drug," and they now raise angora rabbits, pygora goats, alpacas, and "a turkey or two … or three." They also garden, tend fruit trees, and raise their own food.
Renee is also a fiber artist, and uses fibers from her bunnies, goats, and alpacas to make beautiful hand-spun articles like the necklace, crochet cuff bracelet, and earrings shown below. Throw your name into our giveaway hat and win the beautiful set below by leaving a comment. Stay tuned to find out who gets these wonderful accessories.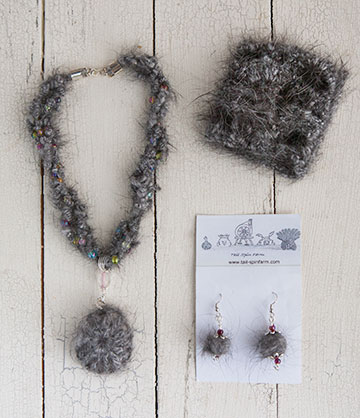 This next set from Renee is all mine (sorry, all I'm sharing is the photo!); bracelet, earrings, and locket necklace holding a photo of my grand girls. I wore this gorgeous ensemble on Christmas day.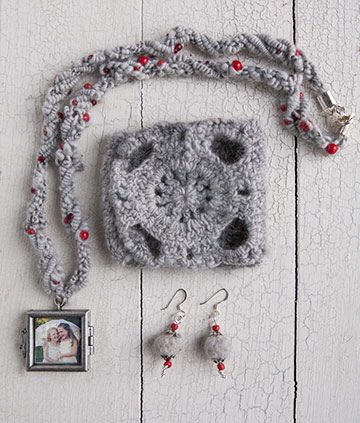 Visit Renee's Tail Spin Farm at Tail-Spin Farm.com.