Remember our How Green Was My Valley giveaway? Well, my grandbaby StellaJane has picked three names from a hat and we're ready to present our winners …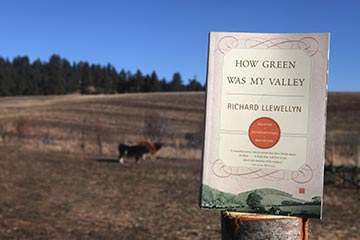 Melanie R, Melissa Hammer, and Wendy, step on up and claim your copy of one of the most beautifully written books I've ever read. How Green Was My Valley, written by Richard Llewellyn, was introduced to me by Dr. Ribi, (the back story on how I was introduced to this book can be found here, Duck or Duct Tape.)
You all had such great responses (keep checking back because I am sure we will do this again), but here are our winners' favorite books! Take it away ladies.
Melanie R.
One favorite book is like trying to pick one favorite food – yikes! However, I'll vote for The Poisonwood Bible by Barbara Kingsolver. Talk about an author who knows how to write … I was sucked into this book and didn't want to let go.
Another person above mentioned The Egg and I … I read that one several years ago and loved it. Another one of my faves. To read about farm life, especially long ago is so cool … and the author has an amazing sense of humor and lyrical writing.
xoxo
Melissa Hammer
It's so hard to pick one, but one I keep going back and re-reading is Amish Peace by Suzanne Woods Fisher. I am fascinated with the Amish because of their simplicity. This book gives you "Simple Wisdom for a Complicated World." BTW, I love MaryJaneFarm magazine! I haven't missed an issue, and always look forward to next one.
Wendy
Well, my current favorite book (and when I say current, I mean this minute because it really does change that often) is People of the Book by Geraldine Brooks. I love all the various times of history interwoven into the book. The story follows the history of a Jewish book. All the people and places it went through before. Truly a fascinating read!