Recently, Meg, and I traveled to the lovely new Fred Meyer store in Meridian, Idaho for a fun little workshop. We met some amazing ladies, shared some laughs, gave away some swag, and received some gifts ourselves! It was an awesome time and we can't wait to do it again …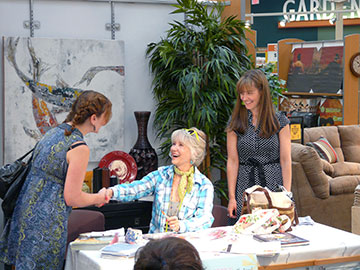 While there, we handed out flyers detailing how one lucky lady could win a towel set, compliments of the farm.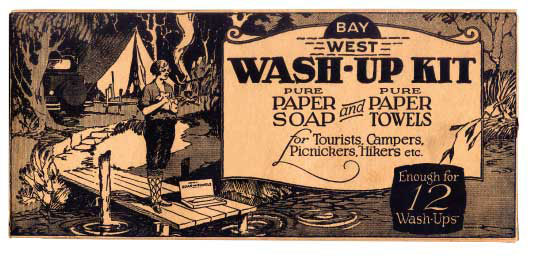 To enter, women sent in emails to Meg telling her a little about the event. You can see their comments on my last post event recap/Fred Meyer.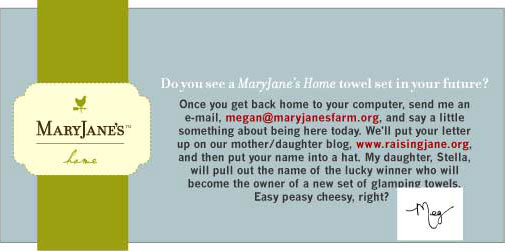 StellaJane, after hearing that the chicks chose the last winner, couldn't wait to get back in on the action. After a swift, eyes-closed, fingers-sifting-paper-deliberation, our winner was Kathie Kinney! Congrats Kathie! Keep an eye on your email inbox.
Kathie Kinney said:
Dear Megan,
It was such a pleasure for my friend, Delhie and I to meet you and your mom on Saturday. The both of you wear the apron of humility so beautifully it shows in such kindness, gentleness and hospitality.
Thank you sooo much for the gift bag of treasures. When I opened up the chocolates I was
very surprised to find the gorgeous postcards. Did you know that dark chocolate help our
brains feel happy, and what woman doesn't need that? So keep up the good work. The chocolate is yummy, I am looking forward to trying the lavender.
I have the best mom and 3 sisters and we are each others best friend, so it is my pleasure to add you and you mom to my sister list.
I was overjoyed at your mom's response to her MaryJane doll, my motive was to bring her encouragement and joy and as shy and nervous as I was to present her with the doll, I am so glad I didn't talk myself out of giving it to her.
I hope you come this close again sometime and I would love to come for a visit and stay at the B&B.
Be Blessed mightily, in the most precious and beautiful name of my Jesus.
Love your sister,
Kathie Kinney
Vale, Oregon