On October 30 we offered up a pair of red hand-warmers (see below) to our readers who told us how they prefer their bananas and we pulled Patty W. from our basket of names.
Patty W said on: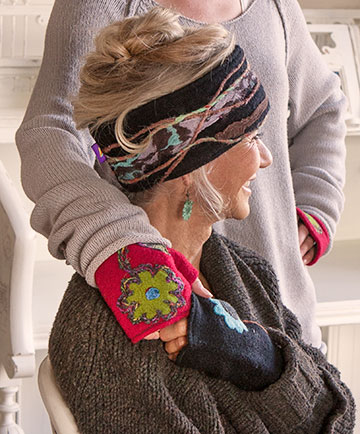 The ca-ute hand-warmers and headband pictured above are the work of three sisters who call themselves "A Few Good Bananas." The sisters make hats, headbands, hand-warmers, and gloves, with a combination of recycled and new materials and intricately handmade adornments. Their combination of boiled wool, cashmere, and other materials makes their products warm and lightweight. "We are passionate about our creations. We have taken extreme care to give every item its own unique personality, making sure that no two pieces are alike."
From their website:
About Us
A Few Good Bananas is the creative child born to three sisters who value family, friendship, and community. Our family taught us very early on that it was more important to have active and creative minds than money. Our mom was one of the original up-cyclers. She found innovative ways to use thrift-shop finds or items that outlived their original purpose and passed that trait on to each of us. Our father used to say "never buy green bananas because life is short, and you never know if you will be around long enough for them to ripen." After our dad passed away, our mom always put "a few good bananas" on her shopping list. Our friends, family, and customers tell us that when they shop, they think fondly of how A Few Good Bananas originated. We consider ourselves instrumental in the lack of good bananas at our local grocery store."
We each bring our unique and whimsical senses to every design decision.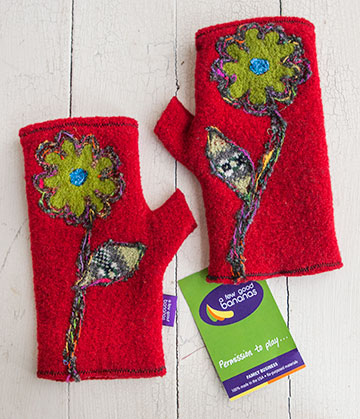 Enter our GIVEAWAY for the red hand-warmers pictured above. In the comments section below, share your favorite way to eat bananas, and we'll pull one lucky winner's name from my new A Few Good Bananas hat!