Thank you for dropping by my Raising Jane Journal to participate in my giveaways! We've chosen a winner for this giveaway already (see below), but don't be afraid to leave a comment anyway. I love reading them. And stay tuned for more great MaryJanesFarm giveaways.
For a chance to win 20 FREE beautiful, handmade clothespins from All American Clothespins, tell me how long you've been reading MaryJanesFarm in the comments below. I'll toss your name into a hat and draw a lucky winner sometime mid-September.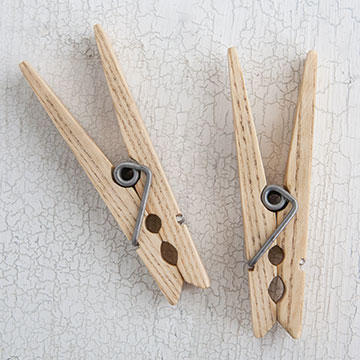 Albert Crooks and his 15-year-old son, Al, craft beautiful, sturdy clothespins from ash (the perfect hardwood for clothespins) and heavy-duty, stainless-steel springs manufactured in the U.S. "No more using four or five cheap clothespins to hang a wet towel to line dry. Our clothespins are tumble sanded and are finished with tung oil, which will not leach out and stain your laundry." For beautiful clothespins that will last a lifetime, visit AllAmericanClothespins.com.
Stay tuned for more magazine-related giveaways. If you're not yet a subscriber to my magazine, MaryJanesFarm, subscribe here for $19.95/year.
———-
The winners of our clothespin giveaway are:
Suzanna Drozd-Kowalski, who said in response to our question, "Tell me how long you've been reading MaryJanesFarm.":
"I have been reading MaryJanesFarm from the get-go. I have your books too. The magazines have been passed to my daughter-in-laws or squirreled away for future reference. I was just watching my grandson's today and looking at their bookcases and there was a stack of MaryJanesFarm magazines and MaryJane's Outpost book that I borrowed for the camping mixes to go with quinoa. Love your books, mazagines, and products. Also love hanging laundry."
and
Deborah Jackson, who said:
Congratulations, Suzanne and Deborah! Watch for an email from the farm.