I just LOVE our Project F.A.R.M. (First-class American Rural Made) business entrepreneurs!
This week, I received this bona fide gorgeous bouquet from Lindy. Lindy is a prime example of why we created Project F.A.R.M—to help small business owners sell their handmade and lovingly crafted wares.
"When I found out about Project F.A.R.M from Brian Ogle, I was ecstatic, to say the least. My husband and I live on a small farm in Harrisburg, Pennsylvania, and I am a stay-at-home mom and business owner, which makes it difficult for me to get out—and this is why I need your help.
Each rose goes through a process and is intricately handmade by me. Many of the colors are custom done in my shop and are exclusive to Homestead Burlaps. I sent you one of my custom fall favorites … Merlot, which is the deep maroon you see in the bunch. Please feel free to visit my shop to see additional colors and designs.
I also design monogram doorstops and pillows … all made out of burlap and many are hand-painted with fabric paint.
Thanks for taking the time to look at my designs. I hope you really enjoy them and see they have a place with MaryJanesFarm."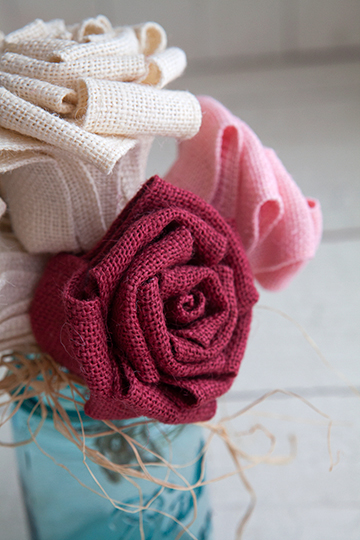 Of course we have room for you, Lindy! Your roses are just so lovely. For those who want to commission a wedding bouquet, centerpiece, or need a cuter-than-cute doorstop, pillow, or message board … mosey on over to Lindy's Etsy site at Homestead Burlaps to see more of her lovely creations. Holiday gifts anyone? That's what I'm thinking.