The FIVE winners of my "Filthy Farmgirl, Hanky Panky" soap giveaway are:
Nadine Morton, who said:
"My favorite cleaning idea is to soak the humidifier parts, water-stained jars, and glasses in white vinegar overnight. It does a good job of removing the white residue from our city water."
Billie Cox, who said:
"Sometimes when I'm cleaning up after my cows, I get the smelly on my hands or on the handle of the rake and I clean my hands with grass until I get to the house."
Linda Lamphier, who said:
"My favorite clean-up tip involves poison ivy. I am exposed to it frequently as I weed in other people's yards! Wash as soon as possible with cold water and soap that is not anti-bacterial. Another option is to make a poultice with baking soda and let it dry on the infected skin. Lemon Joy dish soap is mild, and rubbing it directly on the skin until it froths and leaving it to dry works well, too. If you can't get inside to wash right away, rub gritty sand on your exposed skin to neutralize the oil. With all these options to choose from (and others), I rarely get a rash any more. Making your own DIY laundry soap with Fels-Naptha, borax, and Washing Powder also takes the oils out of your clothes!"
Dawn Pilat, who said:
"Keep a water barrel by the back door and dip your hands in for a quick clean up before you go inside."
Teresa Stiner, who said:
"I put some vinegar in the bottom of the dishwasher before I run it. Helps to keep D/W clean and with rinsing."
And the original post for the GIVEAWAY was (thank you to the 55 farmgirls who left such great clean-up tips!):
In the Oct/Nov issue of MaryJanesFarm, "Hanky Panky" (on newsstands Sept. 15), I led you here to my daily journal for a chance to win a fanciful farmgirl soap from Hawaii's Filthy Farmgirl. Their ultra-cute labels have a decidedly tongue-in-cheek attitude—their "Live Nakedly" motto refers to their 100-percent natural ingredients, and a few of their titles bend toward the bawdy with double meanings, but there are lots of options for good, clean farmgirl fun.
You can win one of five large bars of Balmbastic Basil—"Explosively aromatic with a blast of basil and lemongrass, a rich beeswax balm, and a coarse millet scrub. Great for gettin' gardenin' grime off your filthy farmin' hands!"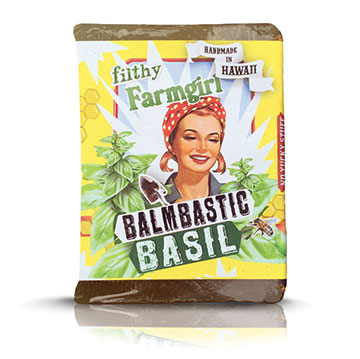 To enter, just share a favorite clean-up tip in the comments below. I'll toss your name into a hat and draw a lucky winner in mid-November, when the Oct/Nov issue expires on newsstands. Stay tuned for more magazine-related giveaways!
If you're not yet a subscriber to my magazine, MaryJanesFarm, subscribe here for $19.95/year.